Keep up to date with Quick Records' latest news and features. We are constantly adding new recordings features and improving our service. If you require more information on a new recording feature or require help setting this up please contact us.
Bit Rate recordings increase – 09/09/21
Quick Record has improved its mechanism for detecting bitrates. This now ensures that your recordings are always recorded at the highest bitrate being broadcasted. Previous to this update your recordings may have been recorded at 128k and not at the higher rates such as 192k etc.
Archived recordings increase – 14/05/21

We have now increased station accounts to hold 42 days recordings.
Our radio recording solution has always been there to help grow your radio station, we are always adding features to help your station succeed. As per the Ofcom regulations, we will now hold your recordings for 42, this will enable you to provide recordings to Ofcom if required. More information on the rules can be found here Ofcom Breaches Content Standards.
Westend DJ Review – 10/03/21

Quick Record drops charges until further notice – 26/04/20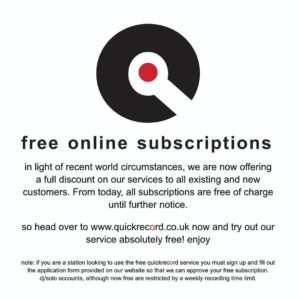 In light of recent world circumstances, we are now offering a full discount on our services to all existing and new customers. From today, all subscriptions are free of charge until further notice.
Quick Record teams up with Radio Respect – 28/05/19
Quick Record are proud to be sponsoring Radio Respect and providing recordings for all their shows. Radio Respect is a CIC (Community Interest Company) offering support for people dealing with mental health matters, including wellbeing advice and information about other helpful organisations.Radio Respect have been listed on the BBC News site promoting all the hard work they are doing.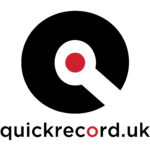 Are you a station manager? Need to speed up how quickly you can add new radio shows? Quick Record now has the option to clone radio shows. Select the show you want to clone, at the top of edit a show you have the option to clone the show. This will copy all the radio show information from the show you selected to the new show. You can now edit this show the same as you would normally edit a show.
Extending your recording – 05/05/19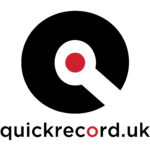 Due to popular demand you can now extend your shows. If your current show is live you can login into your recording schedule and now change the end time. This will allow you to have one recording all the way through. This can be useful if you are covering for the next DJ.
Instagram
 Stories – 21/04/19
Why not let your Instagram followers know that you are going live. When your show starts Quick Record will now publish to your story with the image of your show. Currently we only support story feeds. Help your followers know when you are on air and boost your lister base. Our instagram feed can be found under "Upload & Social" tab. As with all Quick Record features this is enabled for all users.
Dropbox Feature – 03/03/19
Quick Record now allows you to add your radio recording to your Dropbox. As soon as your show has finished we upload to your Dropbox, this is normally available before you even leave the station. This can be enabled from the "Upload & Social" tab. This is feature as with all recording features is available on any account, station or DJ. The recording will be added to a new folder on your Dropbox called QuickRecord. You are able to add your DropBox link to your twitter notification so your listeners can download your show from your DropBox.
YouTube Tutorial Videos – 12/02/19
To help new and existing user we have now launched our YouTube channel. We currently have three tutorials, Getting Started, Station Manager & Advanced Features. We strongly recommend that you watch these to get the most out of your Quick Record Radio Recording account.